MARK YOUR CALENDARS WITH THE FOLLOWING DATES:
36th Annual
Fort Myers RV Show
Lee Civic Center • January 27, 28, 29, 30 – 2022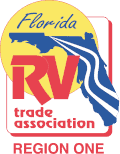 FORT MYERS, FL – The Fort Myers RV Show returns AGAIN! After a pandemic forced hiatus for 2021, this huge annual event is on for 2022. This means you need to take advantage TODAY of this personal invitation for GREAT displaying opportunities at the 36th Annual Fort Myers RV Show, January 27 -30. Setup starts at NOON Wednesday, January 26, 2022.
That's right! Immediately following the Florida RV SuperShow in Tampa is the 36th Annual Fort Myers RV Show, the largest dealer-sponsored RV show in Florida! From Tampa, follow I-75 south toward Naples. Take exit 143 east for five miles and you're at the Fort Myers RV Show/ Lee Civic Center (11831 Bayshore Road, N. Fort Myers, FL 33917).
By participating in this well-known and successful RV event, you'll demonstrate your product or resort to thousands of qualified prospects during a four-day period. Reach camping and RV enthusiasts from a seven-county area all seeking extra comforts and conveniences for their outdoor adventures. And, for the 10th year in a row, booth prices remain the same!
Go to the Florida RV Trade Association's website, www.FRVTA.org and locate the "RV Show" tab or go to the Region 1 website www.FRVTA-Region1.org . Under the Fort Myers RV Show section, you will find the show application and ALL other necessary show information.
FRVTA Region 1 realizes the problems associated with the COVID-19 virus and it's business impact. That's why we have taken extraordinary safety measures to ensure the health and safety of all show participants as well as show attendees. We're following CDC regulations, including regular sanitation efforts and sanitizing stations, all in an effort to safeguard everyone.
Should the show be canceled for ANY reason, please rest assured that complete refunds will be made. Return the linked contract below with your check and insurance certificate to reserve your booth space OR go online to access the contract-–it contains all information needed including setup times and show hours.
Due to changes in insurance regulations, NO CONTRACT WILL BE ACCEPTED WITHOUT THE REQUIRED INSURANCE FORM.
Although we can accommodate almost 100 vendors, space limitations give the first 50 vendors priority site selection. We may stage a tent this year in an attempt to accommodate everyone. However, vendors were turned away in previous years, so don't delay!
A vendor sheet with specific move-in instructions, booth location and lodging information will be posted at www.FRVTA.org and www.FRVTA-Region1.org before the event. In an attempt to hold the line on rising costs, all show items will be available online–nothing further will be mailed.
For more information or questions, call me at (239) 482-6006 or email me at jcarverj@embarqmail.com. You can also contact Patty Flanagan at the FRVTA State office, pattyf@FRVTA.org, (813) 741-0488.
See you at the show!
JACK CARVER
Show Manager