For Florida Children Battling Cancer
This year's holiday season got off to a terrific start as 74 toys and additional cash were raised by
Florida RV Trade Association (FRVTA) Region 1 members at their December Holiday Party. This
year's toy drive organizer was Denise Dull, the longtime Region 1 treasurer. She and her friend Jill
Morrison-Ferguson also used the unexpected $900 cash donations to buy additional toys
afterwards for a total of 224 toys donated.

Charlotte County's Ironman Alex Fights Brain Cancer was the lucky recipient of this year's holiday
gift giving. Alex Meyer, a 10-year-old diagnosed with inoperable brain cancer this past March,
started this special organization.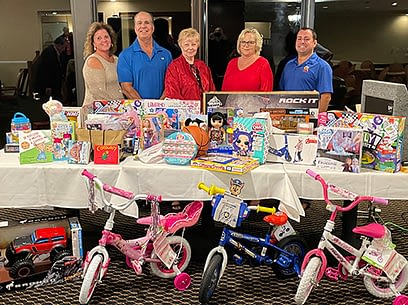 Filled with a fighting spirit, Alex determined he wanted to help other Florida children afflicted
with cancer and spending this holiday season in a hospital. His goal: to obtain 10,000 toys to make
the holiday season as bright as possible for others.

Although he only raised 8000 gift toys, numerous news outlets profiled his efforts and U.S. Congressman Gregg Steube presented him with an American Flag that had flown over the Capital Building.
His spirit of hope for others rather than sorrow for himself is the true meaning of
Christmas!